Podhale is one of the few places in Poland where horses are still bred in many farms. The view of people riding on top of the horse or in horse-drawn carriages is not surprising. If you visit Zakopane or nearby towns, it is worth taking a ride.
Riding on top of the horse, in a cab, or in winter sleigh will bring joy to both children and adult tourists staying in Zakopane. Whatever your preference for a ride, it's good to know where to find such attractions.
RIDE ON TOP OF THE HORSE
Undoubtedly, riding in the saddle gives the most pleasure. It provides a massive adrenaline dose to the rider. Horse riding schools can be found in Koscielisko, Bukowina Tatrzanska, and Czarny Dunajec.
You can also try horse riding at the top of Gubalowka. And you do not have to worry about your skills. A highlander is walking by the horse all the time, making sure that the animal is not getting scared.
Horse-drawn carriages rides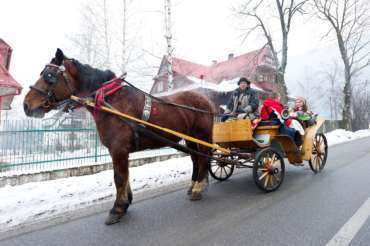 If you desire to ride in a horse-drawn cart, it is worth going to Krupowki street. In the lower part of the street, you will find highlanders sitting in the horse-drawn carriages, here you can order a ride for yourself. During the trip, you can also listen to the stories of the driving highlander about the region's history and the Tatras, assuming that you understand spoken highlander dialect =).
We will also find horse-drawn carriages along the road to Kuznice, Gubalowka, and at the entrance to the Koscieliska and Chocholowska Valleys.
RIDES IN WAGONS
Massive wagons in which passengers sit along both sides. It is usually pulled by two horses. These wagons can be found primarily on the road to Morskie Oko – between the parking lot and up to the "Wlosienica" you can take a horse wagon.
Wagon rides are also organized in some accommodation facilities. One such place is the Tatra House Pension in Zakopane. We try to bring the highlander folklore closer to the guests. Therefore, the interior design, bonfires at which the highlander band plays music, and rides in cabs contribute to a local tradition, says Kinga Batkiewicz Pietrzak, the facility owner.
HORSE SLEIGH RIDES
As soon as the weather permits, highlanders swap carts for sleighs. It is easier for horses to pull sleds on slippery snow than wheeled carts.
When it is winter, you can find sleighs on the road to Morskie Oko and at the entrance to the Tatra valleys, where there is always a lot of snow.